Happy Saturday friends. We made it through QWT3, quarantine week 3 on the East Coast. I know this is more like QWT4 or 5 to our friends in some places out on the "Left Coast". Not easy but we hope you are hanging in there. We have been doing lots of reading this week taking note of consumer behavior, the role that brands should play, and how to approach ad spend during a pandemic. Of course, Getting Creative wouldn't be complete without a focus on the creative, and we have a lot of that covered here too. In response to the Guinness ad circulating the web (click on the top link in the Short List), Rob Schwartz from TBWA\Chiat\Day New York tweeted: "Saw it in my feed and it restored my faith in advertising." Creativity, that is what unites us, right? So be safe, be healthy, be human and enjoy the read.

Oh, BTW, we created a bunch of Zoom backgrounds for you to make your weekend parties a little more fun.
THE SHORT LIST
A few things that caught my eye this week

It's Not A Real Guinness Ad. But It Is A Perfect Guinness Ad

(AdWeek)

Netflix Puts Spoilers On Billboards To Make You Want To Stay Home

(WERSM)

| | |
| --- | --- |
| | Who Are Your Real Brand Friends? How To Communicate With Customers During A Crisis |

| | |
| --- | --- |
| | A Shutdown Theater Turned Its Parking Lot Into a Drive-In and Sold Out Every Movie |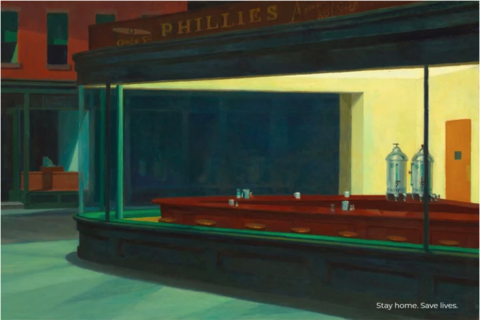 Be Human
Here is a plug for 'Behind the Numbers' podcast by eMarketer. You should give it a listen on your next stroll through the neighborhood getting a daily dose of fresh air... In this episode, they talk about the ads running in the wake of the COVID breakout and the brands that are doing it the best. Since it is impossible (for now) to click within a podcast to see examples of the work: this link is for you! What all these brands have in common is empathy. They are speaking to people's newfound 'shelter in place' living situation. They are not pushing DR messages to drive lower-funnel sales, instead, they are just being human and using their creative talents to simply support us and stand with us during this trying time. There is a lot of creative work out there that is worth a look: Masterpieces subject to quarantine, Time Out Magazine becomes Time in, and of course, what is a day without the mention of TP. Great creative all around. Branding is trending and for good reason.
FACTS, FIGURES, & TALL TALES
A little something for your next virtual Zoom party.
14.1MM

Disney+ leads the US with 14.1 million downloads so far in 2020, versus 11.9 million for Netflix (which may have already saturated the U.S. market) and 8.1 million for Hulu (owned primarily by Disney.)




Source: TechCrunch
Don't Be Tone Deaf
We spent some time reviewing Kantar's COVID-19 Barometer report, a study that looks at COVID's influence on consumer behavior and the best approach to informing a brand's response. Here are some interesting thoughts that should prove helpful to you: (1) To date, the behavioral response has been weighted toward economic outlook vs. personal health (2) Brands need to be cautious using COVID for self-promotion. What customers want to know is how brands are participating in the response. Messaging needs to be helpful, positive, additive. (3) The shift to online shopping will continue to grow; this is only an accelerant. (4) Brand loyalty + price drives consumers' decision-making process. This means branding is important to stay top of mind, yet value proposition statements should be present in the creative. (5) Media consumption will continue to increase as self-isolation is the new norm - for the short term at least. The overarching message here is: be human, be helpful, bring something.
History Does Not Lie
It is always best to use history as our guide especially in a situation like the one we are living in today. My friend Kunal, CEO of Polar, is a smart guy and fairly prolific writer, as he shows off in this piece about the History of Advertising In A Recession. Yes, we know digital ad spend is down in Q2 by 38% & 43% for traditional. Understandably, brands are in react mode, but we have seen this recession movie before and there are consequences of going dark. In the last recession during 2008, 60% of the brands went dark for 6 months suffered from 24% brand use decrease & 38% drop in brand image. These are not easy marks to bounce back from. Yes, brands can benefit from short term gains from the cost-cutting but beware, greater harm exists in the long term. It's an open market for new players. Some of the most beloved brands made bold moves in troubled times by increasing ad spend to grow their position: In the 1920s, Post Cereal cut spend while Kellogg's doubled down becoming the category leader for multiple decades; In the 1990s McD's cut their spend which led to sales growth of Pizza Hut and Taco Bell; And, in the 1970s, Toyota become the top import… why? Spend. Branding. Creative.